Download
HexOSCtoMIDI(OSC to MIDI Converter)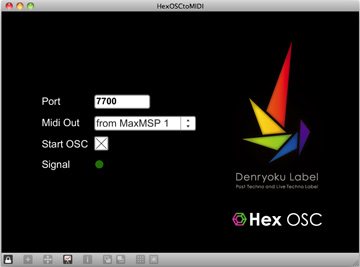 HexOSCtoMIDI is a patch for Max/MSP.
It is for converting OSC to MIDI.
You can download the patch for free from link below.
Download HexOSCtoMIDI.zip(40KB 2010/3/21 Update)
If you do not have Max/MSP, you can use Max/MSP Runtime instead.The download link is below;
Max/MSP 5 or Max/MSP 5 Runtime.
For Windows User
If you need virtual MIDI driver for controlling your DAW.You may be able to use these sofware.
OSCulator's Setting file for Hex OSC Full Ver 1.5.0 later and Hex OSC S Ver 3.0.0
Download HexOSC.oscd(40KB 2010/5/27 Update)
▲top